Pain Management
When reversal of VIVITROL blockade is required for pain management1
---
Once administered, the opioid-blocking effects of VIVITROL are expected to last approximately 28 days. In an emergency situation, reversal of the VIVITROL blockade may be required for pain management. Please review the safety information for When Reversal of VIVITROL Blockade is Required for Pain Management.
In an emergency situation in patients receiving VIVITROL, suggestions for pain management include regional analgesia or use of non-opioid analgesics.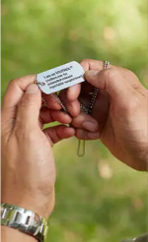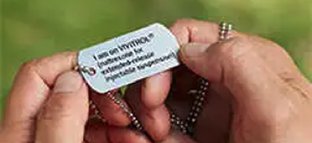 If opioid therapy is required as part of anesthesia or analgesia:
Patients should be continuously monitored in an anesthesia care setting by persons not involved in the conduct of the surgical or diagnostic procedure
The opioid therapy must be provided by individuals specifically trained in the use of anesthetic drugs and management of the respiratory effects of potent opioids, specifically the establishment and maintenance of a patent airway and assisted ventilation
Irrespective of the drug chosen to reverse the VIVITROL blockade, the patient should be closely monitored by appropriately trained personnel in a setting equipped and staffed for cardiopulmonary resuscitation.
Patients should carry written information with them at all times to alert healthcare providers that they are taking VIVITROL, so they can be treated properly in an emergency. A VIVITROL pain management card, medical alert bracelet, or medical alert dog tags can be ordered by calling 1-800-VIVITROL (1-800-848-4876), option #2.
VIVITROL is not right for everyone. There are significant risks from VIVITROL treatment, including risk of opioid overdose, injection site reactions, and sudden opioid withdrawal. Strongly consider prescribing naloxone for the emergency treatment of opioid overdose. See Important Safety Information below. See Prescribing Information. Review Medication Guide with your patients.
REQUEST A
REPRESENTATIVE
Request a visit from a VIVITROL representative to learn more about how VIVITROL may help your appropriate patients with opioid dependence or alcohol dependence.
REQUEST A REPRESENTATIVE
LEARN ABOUT THE VIVITROL®
CO-PAY SAVINGS PROGRAM
Learn how the VIVITROL® Co-pay Savings Program may assist eligible* patients with out-of-pocket expenses for their VIVITROL prescriptions.
LEARN MORE
Reference: 1. VIVITROL [prescribing information]. Waltham, MA: Alkermes, Inc; rev March 2021.
*Terms and Conditions
Eligibility for Alkermes-Sponsored Co-pay Savings. This offer is only available to patients 18 years or older, with a prescription consistent with the Prescribing Information and the patient is not enrolled in, or covered by, any local, state, federal or other government program that pays for any portion of medication costs, including but not limited to Medicare, including Medicare Part D or Medicare Advantage plans; Medicaid, including Medicaid Managed Care and Alternative Benefit Plans under the Affordable Care Act; Medigap; VA; DOD; TRICARE; or a residential correctional program.
Additional Terms of Use: This offer is not conditioned on any past, present, or future purchase, including refills. Alkermes reserves the right to rescind, revoke, or amend this offer, program eligibility, and requirements at any time without notice. This offer is limited to one per patient, may not be used with any other offer, is not transferable and may not be sold, purchased or traded, or offered for sale, purchase or trade. Void where prohibited by law. Program Administrator or its designee will have the right upon reasonable prior written notice, during normal business hours, and subject to applicable law, to audit compliance with this program.