VIVITROL—a


once-monthly


treatment option1
VIVITROL is an
extended-release

, microsphere formulation of naltrexone designed to be administered by IM gluteal injection every 4 weeks or once a month
---
Approximately 2 hours after injection, a transient initial naltrexone plasma concentration peak occurs, followed by a second peak approximately

2-3

days later
Beginning approximately 14 days after dosing, concentrations slowly decline, with measurable levels for greater than 1 month

Pre-treatment

with oral naltrexone is not required before using VIVITROL
Plasma naltrexone concentration2,3*
*Data for oral naltrexone beyond Day 5 have been extrapolated from a study of normal healthy volunteers (n=14) given oral naltrexone 50 mg daily for 5 days. Plasma concentrations do not necessarily correlate with clinical efficacy.
Dosage and Administration1
VIVITROL must be prepared and administered by a healthcare provider
Prior to initiating VIVITROL, an

opioid-free

duration of a minimum of

7–10

days is recommended for patients, to avoid precipitation of opioid withdrawal that may be severe enough to require hospitalization
The recommended dose of VIVITROL is 380 mg delivered intramuscularly as a gluteal injection, every 4 weeks or once a month, alternating buttocks for each subsequent injection, using the carton components provided

VIVITROL must not be administered intravenously or subcutaneously

See Full Prescribing Information for complete Directions for Use
WATCH THE VIDEO
TO LEARN ABOUT DIRECTIONS FOR USE
---
Gluteal intramuscular injection of VIVITROL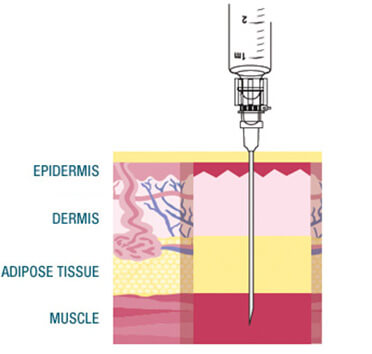 Injection site Reactions1
VIVITROL must be prepared and administered by a healthcare provider
VIVITROL injections may be followed by pain, tenderness, induration, swelling, erythema, bruising, or pruritus; however, in some cases injection site reactions may be very severe
Injection site reactions not improving may require prompt medical attention, including, in some cases, surgical intervention
Inadvertent subcutaneous/adipose layer injection of VIVITROL may increase the likelihood of severe injection site reactions
Select proper needle size for patient body habitus, and use only the needles provided in the carton
Patients should be informed that any concerning injection site reactions should be brought to the attention of their healthcare provider
VIVITROL is not right for everyone. There are significant risks from VIVITROL treatment, including risk of opioid overdose, injection site reactions, and sudden opioid withdrawal. Strongly consider prescribing naloxone for the emergency treatment of opioid overdose. See Important Safety Information below. See Prescribing Information. Review Medication Guide with your patients.
REQUEST A
REPRESENTATIVE
Request a visit from a VIVITROL representative to learn more about how VIVITROL may help your appropriate patients with opioid dependence or alcohol dependence.
REQUEST A REPRESENTATIVE
LEARN ABOUT THE VIVITROL®
CO-PAY SAVINGS PROGRAM
Learn how the VIVITROL® Co-pay Savings Program may assist eligible† patients with out-of-pocket expenses for their VIVITROL prescriptions.
LEARN MORE
References: 1. VIVITROL [prescribing information]. Waltham, MA: Alkermes, Inc; rev March 2021. 2. Dean RL. The preclinical development of Medisorb® naltrexone, a once a month long-acting injection, for the treatment of alcohol dependence. Front Biosci. 2005;10:643-655. 3. Dunbar JL, Turncliff RZ, Dong Q, Silverman BL, Ehrich EW, Lasseter KC. Single- and multiple-dose pharmacokinetics of long-acting injectable naltrexone. Alcohol Clin Exp Res. 2006;30(3):480-490.
†Terms and Conditions
Eligibility for Alkermes-Sponsored Co-pay Savings. This offer is only available to patients 18 years or older, with a prescription consistent with the Prescribing Information and the patient is not enrolled in, or covered by, any local, state, federal or other government program that pays for any portion of medication costs, including but not limited to Medicare, including Medicare Part D or Medicare Advantage plans; Medicaid, including Medicaid Managed Care and Alternative Benefit Plans under the Affordable Care Act; Medigap; VA; DOD; TRICARE; or a residential correctional program.
Additional Terms of Use: This offer is not conditioned on any past, present, or future purchase, including refills. Alkermes reserves the right to rescind, revoke, or amend this offer, program eligibility, and requirements at any time without notice. This offer is limited to one per patient, may not be used with any other offer, is not transferable and may not be sold, purchased or traded, or offered for sale, purchase or trade. Void where prohibited by law. Program Administrator or its designee will have the right upon reasonable prior written notice, during normal business hours, and subject to applicable law, to audit compliance with this program.